SEO
Moz Pro
Mainly use this tool to check the Da and Pa values of the website
Moz Pro is a complete SEO toolset that helps boost your rankings and search engine visibility.
Pros & Cons
Key Features
Pricing & Trial
Pros
Moz Pro is a dynamic and powerful SEO tool suite with virtually no weaknesses.
It generates industry-standard metrics, offers handy suggestions on page optimization and has redesigned crawling.
Cons
User experience is not as intuitive as the competition.
Depth and range of features might be overwhelming for some SMBs.
1. Keyword Explorer
Moz Pro excels at taking the complexity of the SEO landscape and serving it up in a digestible manner for a broad audience.
The Moz Keyword Explorer does this well for the sometimes bewildering world of keyword research. It takes a huge amount of SEO data and calculates metrics that will have meaning for marketers. For example, it shows how popular a search query is, how difficult it will be to rank for the query, and several related queries you should consider.
There is also a Priority score listed for each keyword you enter. This helps quantify the keyword's importance for your business. A Priority score close to 100/100 would mean the keyword has high search volume, high CTR (click-through rate), and low competition.
You can modify this by adding further details about your business, under what Moz calls My Score. This judges whether the keyword relates to your products and services.
It's a complicated undertaking and no objective metric can pin such a subjective notion down, but it clearly demonstrates Moz Pro's dedication to understanding what their customers want to see in an SEO tool.
The Keyword Suggestions feature is fantastic, too. It will take a source keyword and recommend new topics to target, which you can then add to your keyword list and track over time. After their 2018 acquisition of STAT Search Analytics, this tool is now powered by a more robust data set.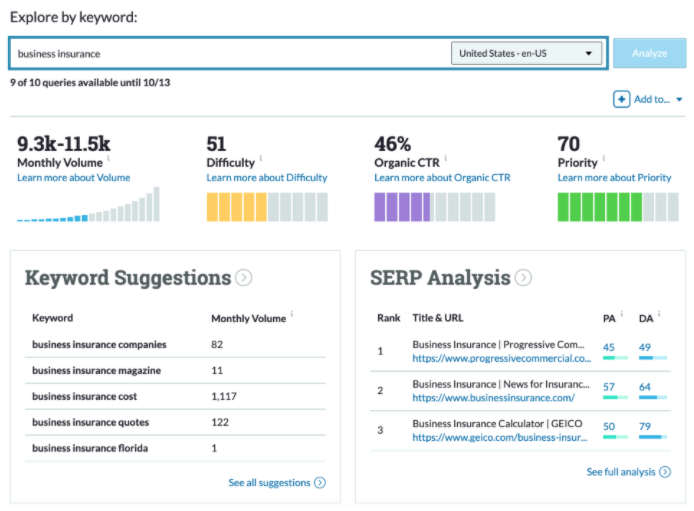 Keyword Explorer is the feature that will draw most users to the Moz Pro suite. It's one of the best keyword research tools on the market today.
2. Link Explorer
Moz's Link Explorer contains an index of over 40 trillion links, so you're guaranteed an in-depth assessment of your site's backlink profile here.
This feature is superb for tracking new links and brand mentions, which will help you understand your site's ranking performance. These insights also feed directly into content planning and link prospecting. Unlike SEMrush and SpyFu, Moz Pro does not offer its own tools for managing link outreach.
The Moz link building suite is easy to use, but has a steeper learning curve for novices than Keyword Explorer. Moz has developed a number of proprietary metrics, including Domain Authority and Page Authority, which may be unfamiliar to new users.
These metrics reflect the SEO "strength" of a domain and its pages, based on their reputation and authority. In short, a link from a higher authority site will pass on more SEO value to your site than a lower authority link. They are not a direct representation of how Google views each domain, but they are still useful when trying to select backlink targets.
Link Explorer is great for mining competitor domains for new links, too. If you notice a high authority site links to most of your competitors, it's likely they will also link to your content. This tool has handy visualizations to help you spot these opportunities.
3. Site Crawl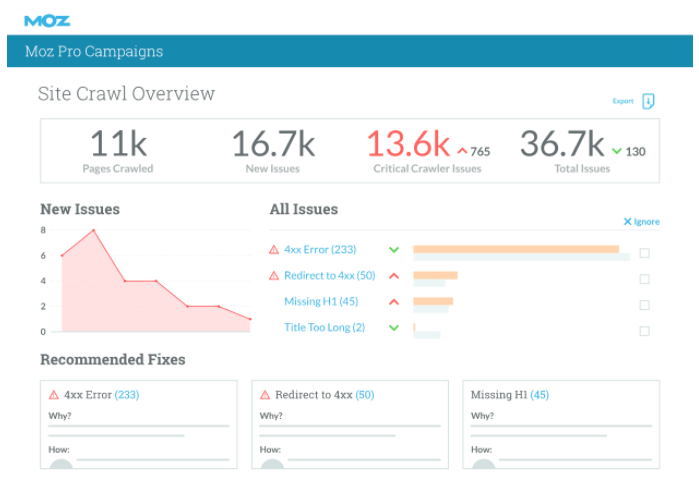 Technical SEO is the foundation of any successful organic search marketing strategy. If Google can't crawl and index your content, it can't return your pages in response to user queries.
Moz Pro offers its own site crawler, and it's effective for spot checks and routine crawls. It does not provide the forensic detail you will find in specialist technical SEO tools, but that's not its purpose.
Moz Pro Site Crawl will highlight a large number of serious technical issues, including response code errors, missing title tags, and faulty redirects. Fixing these errors can lead to dramatic improvements in SEO performance, so this tool will prove valuable to Moz Pro customers.
Links to guides and tips alongside many of the recommended fixes are great for users who've never implemented technical SEO changes before.
Moz Pro's technical SEO tools highlight major issues which help users make recommended changes. Source: Moz software.
Businesses with large and complex domains will want to couple Moz Pro with a dedicated technical SEO crawler, but for most businesses, Moz Pro will cover the bases well. It also contains automated alerts to highlight any significant changes in your domain's status.
Relevant Navigation