AdPlexity is the leading ads spy tool that comes with a heap of superb features and filters that allows you to find the nitty-gritty details of profitable ads campaigns worldwide.
Benefits
Pros & Cons
Key Features
Pricing & Trial (Ecommerce plan)
Landing Page Downloads: Using this exotic feature you can easily download landing pages.
Pop Up Redirects: This tool will help in tracking campaigns that are generally running on pop-under ads.
Banner Ads: It will monitor thousands of ads that are generally running on many of the adult websites.
Country Support: It generally covers more than 70  countries all over the world and also some of the lesser competitive countries.
Devices Integration: The best part is that it supports all the major platforms like Windows, PC, Mac, iPhone, and Android too.
120 Carriers: Basically this tool mainly uncovers all of the campaigns that are running on mobile carrier traffic from all over the world.
Affiliate Networks: This features basically help in finding the best ads that are promoting affiliate offers from over 100 affiliate network with just a single click. This feature is quite good for affiliate marketing.
Ultra-Fast Search: Here the results will get you the outcome within fractions of seconds that can be searched by advertisers, publishers, and more.
Pros
Very Easy to Use Interface
Scrape campaigns in over 75 countries
Get real-time insights running on various traffic sources
Allow you to download every landing page in a .zip file with ease.
Analyze campaigns by — ad trends, device targeted, traffic source and publishers.
Support all major web browsers — Windows, Chrome, Safari and so on.
It provides real-time data on the affiliate networks as well as tracking tools.
Powerful filter options — keywords, advertisers, publisher and affiliate network.
For eCommerce, they have access to data over 100,000 eCommerce store and 70,000,000 products.
AdPlexity Native lets you pull up comprehensive data on the most successful native advertising campaigns in seconds.
Adplexity Desktop Pull comprehensive data on the latest successful desktop campaigns from a huge range of different desktop traffic sources
Get all the most important data on successful mobile campaigns, in a matter of seconds. AdPlexity puts ads from the most popular mobile sources
Cons
It doesn't offer any free trial.
They should offer in-depth guides on their products for beginners.
Better pricing options needed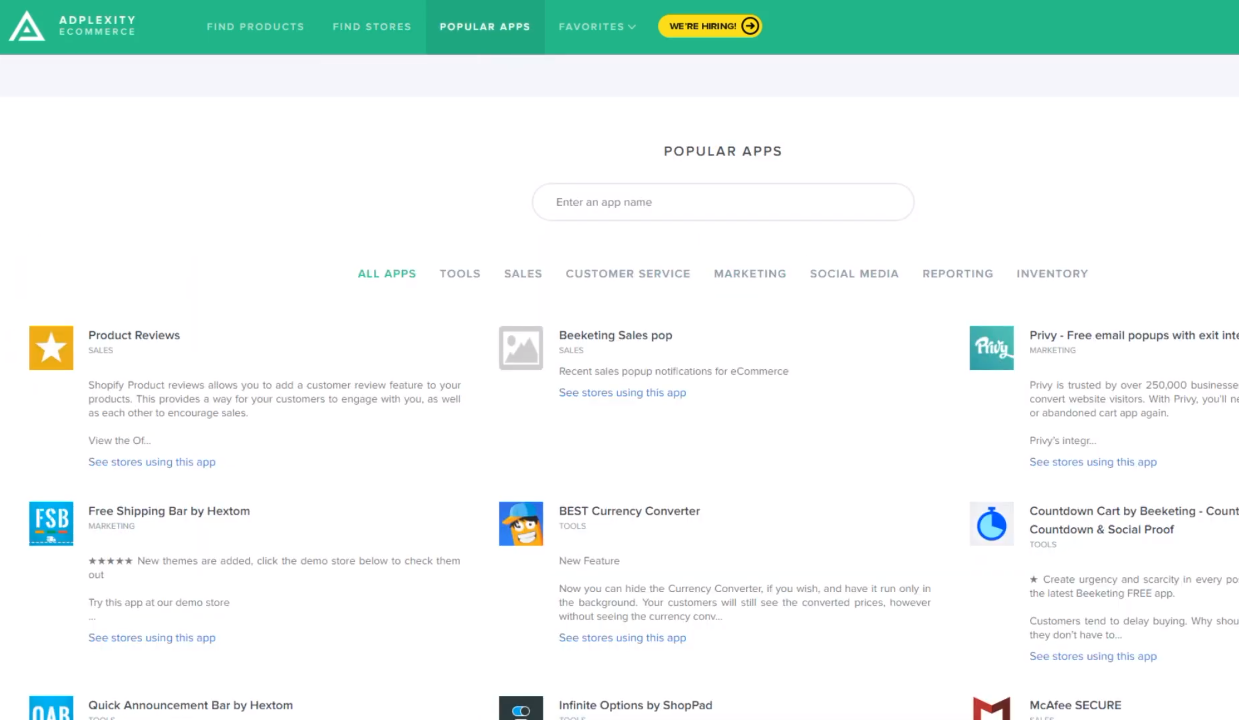 The dashboard for Adplexity is divided into three main parts; the menu, the filters and the results in the center.
The filters are date ranges, day running, ad type, device type, country, language, connection, traffic source, affiliate network and tracking tool.
All these can help you narrow down the ads to track.
You can even search Adplexity's database by advertising.
This will allow you to find ads that are promoting certain offers and the campaigns which are being driven by a single affiliate or advertiser.
The ads are divided into four conditions which are:
landing page redirection chain (the steps which lead up to the landing page)
landing page URL (the URL on which the user lands after clicking the link)
page outgoing URLs (the call to action links which generate from a landing page to the outside location), or
all of the aforementioned conditions.
Adplexity Ad Page – This page is where you'll be directed to if you've initiated the search.
At the top, you'll find the most relevant information like the preview for the landing page, the countries where it is working, and the connection types where it's promoted.
The landing page links will all be laid out in front of you.
The links to the redirection path and some outgoing links which are mentioned above will be outlined in the advertiser search.
The second section of the ad page shows you a lot of visual data in the form of graphs and charts.
This will allow you to see the performance of the ad that you've selected to monitor over days, weeks and months.
The data will be split up according to device, OS, etc.
Adplexity Ecommerce is probably the best value-for-money package that the platform has to offer. Most Adplexity Ecommerce reviews online will agree to it.
Not only does it allow you to get ad data from more than a hundred thousand stores, but it also allows you to get data for about 70 million products.
It allows you to get historical pricing changes. So that you can ascertain which revenue boosting apps are being used by competitors.
This is a great value-for-money package at $199 per month and $1990 per year.
The best package by far goes way above and beyond for you to allow you to sell your products, spy on your competitors, get all the data you need from products without discriminating between platforms, and gives you the best offer at $500 less than the native Adplexity pricing plan.
This is the one to go with if you actually want to get the best bang for your buck.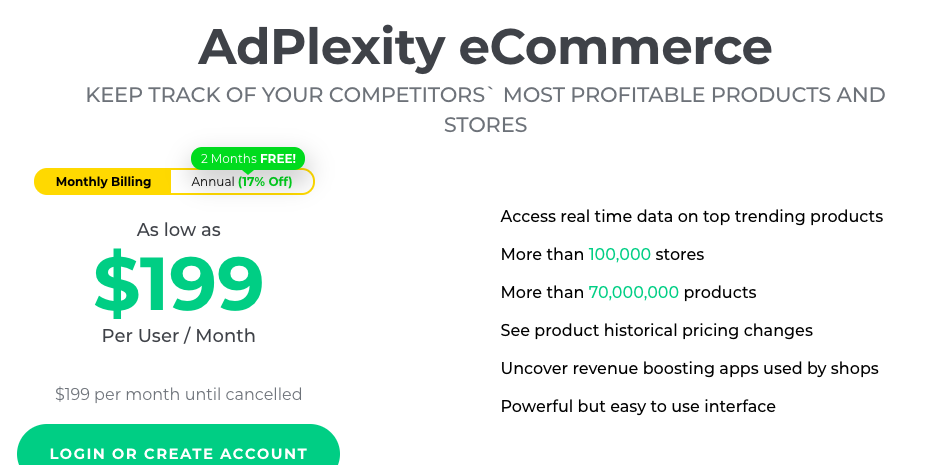 Relevant Navigation