SEO
Woorank
Give you actionable insight to help you optimize your online sales and marketing efforts
WooRank is an automated website reviewing tool with advanced SEO auditing and monitoring, keyword tracking, competitive analysis, and a powerful site crawl.
Benefits
Key Features
Pricing & Trial
The main benefits of WooRank are, it provides detailed information about a website's search engine performance, automates website analysis and review processes, and excellent customer support. Read on to know more about its benefits:
1. Delivers All the Data you Need for Analyzing your Websites' Search Engine Performance
WooRank provides all the information users need about the websites they are handling so they can discover search engine optimization issues right away and formulate and implement better strategies that can make their websites more searchable, engaging, powerful, and profitable. WooRank lets them find out how search engines like how Google ranks their websites, how much traffic they are getting, and other SEO-related metrics. Because of this, they will be able to spot areas of opportunity and improve search engine ranking and performance. The tool automates the way they review and analyze their websites and delivers suggestions for search engine optimization.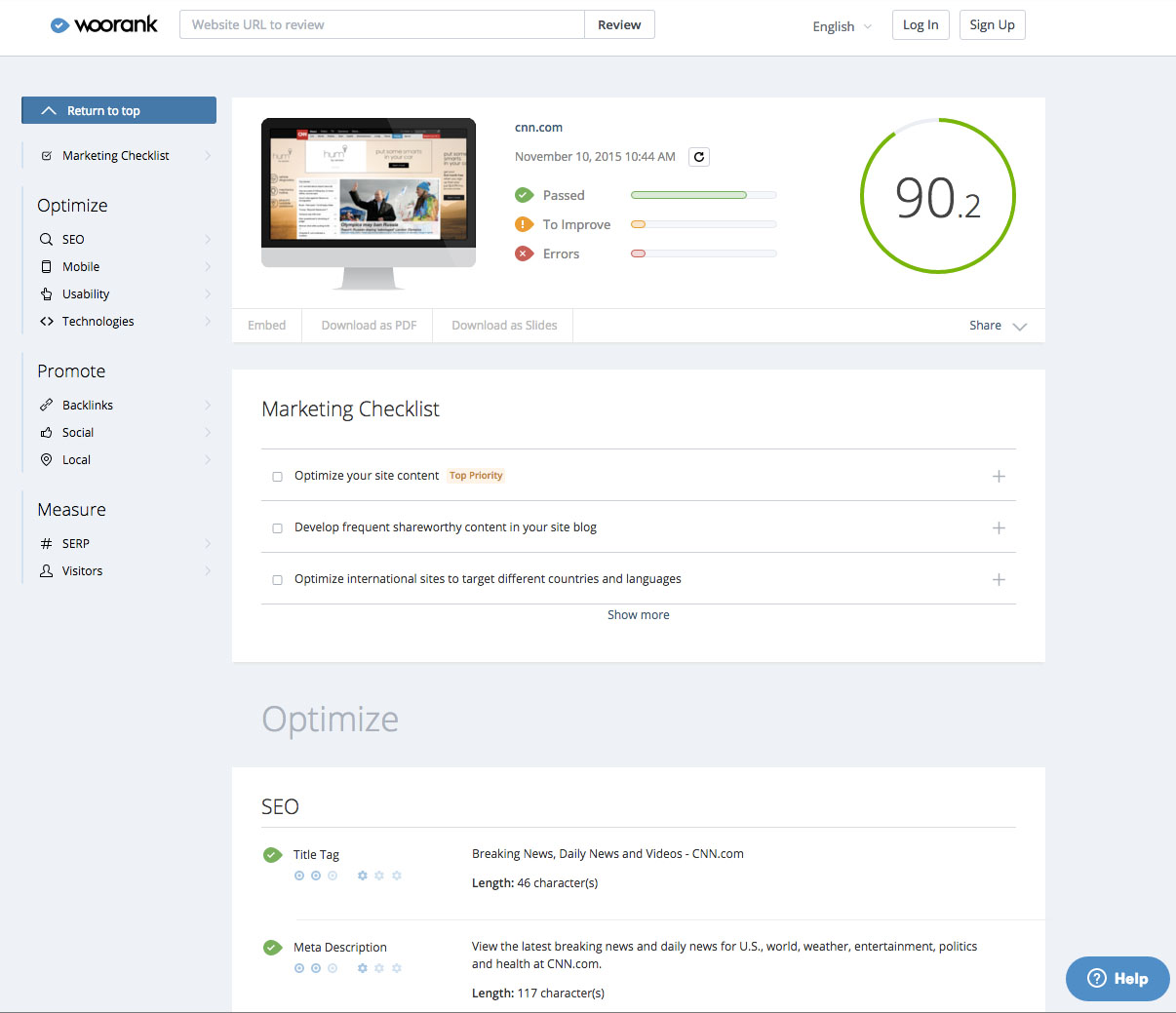 2. Handles the SEO Needs of Business of All Sizes
The search engine optimization tool is so dynamic and flexible in such a way that it serves the SEO needs of users regardless of the size of their business. This makes WooRank ideal for both small and large business owners who want to improve their online presence and reputation. Real-time data and insights about their websites' performance on search engines are delivered to them, allowing them to grow and expand their business through comprehensive online visibility monitoring, website analysis, and site traffic boosting.
3. Efficient and Excellent Customer Service
Another noteworthy feature of WooRank is that it provides excellent customer service. It is backed up by a team of helpdesk and customer support agents that can quickly respond to users' inquiries and assist them in whatever concerns they have with regards to using the tool and other important matters. Also, the team offers assistance and support in five languages.
Website review
Backlinks analysis
Continuous tracking
White-Label Report
SEO Tool
Marketing Plan
Smart Dashboard
Competitive Analysis
In-depth Reports
KPI Monitoring
Relevant Navigation