Data Analysis
eCom Shop
Power BI
A business analytics solution that lets you visualize your data and share insights across your organization, or embed them in your app or website.
A business analytics solution that lets you visualize your data and share insights across your organization, or embed them in your app or website.
Homepage
Benefits
Key Features
Top Three Components
Pricing & Trial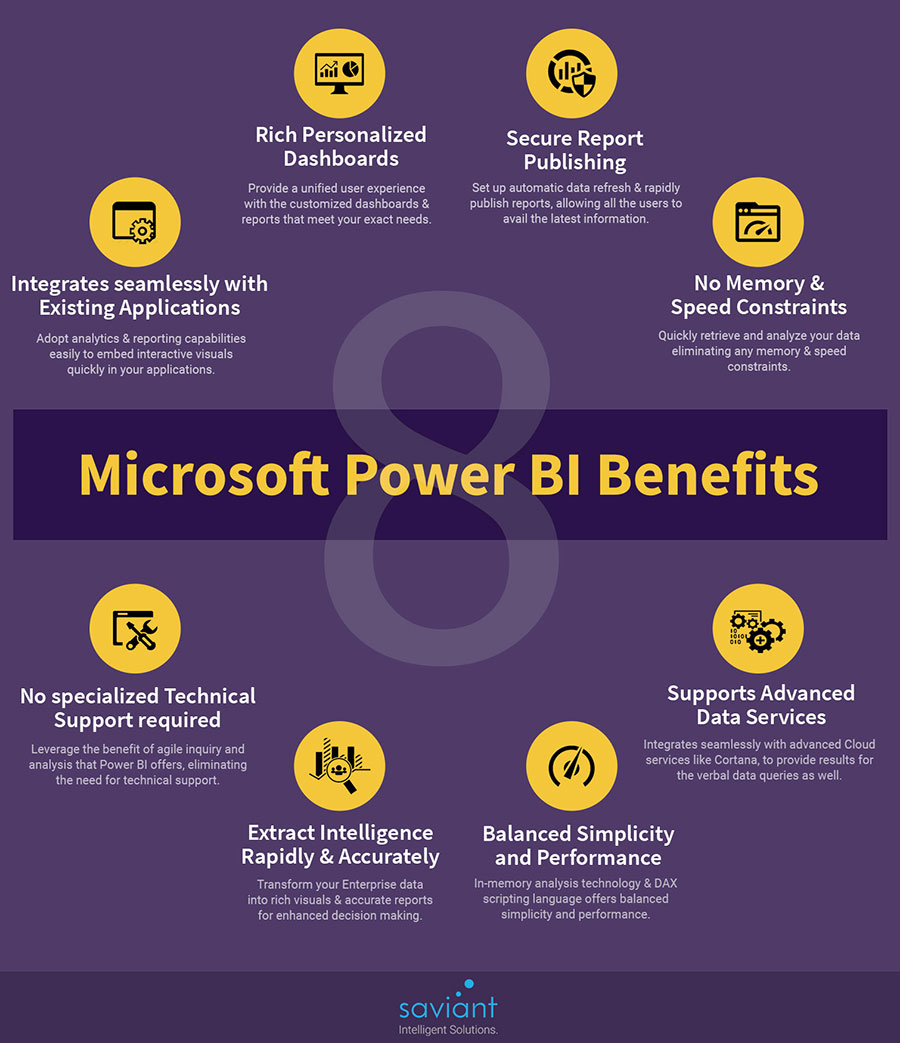 1. Interactive Power BI desktop  
This interactive Power BI desktop tool allows you to build reports by accessing the data quickly. One doesn't need to have advanced skills to create a report with this powerful tool, it is quick and easy to learn to use.. Also, the best thing about his tool is that it is free to download tool, allowing you to create reports without possessing any technical knowledge.
2. Customized Visualization 
Every organization functions differently, and they have their own way of getting things done. There are times when the right way to go is the standard way. Well, the same applies in the case of visualization.
The Power Bi tool has a default standard, which sometimes is not sufficient for the organizations due to complex data. Under such circumstances, organizations can easily access the custom library of visualization and design yourself a visualization that serves your needs well.
3. Visibility 
The center of all businesses is data, and the main challenge that organizations face today is manipulating the data with other datasets to derive useful information.
Well, an effective way to do that is by collecting various datasets and organizing them visually for the purpose of better understanding. This form helps in delivering a deeper understanding of the data using which organizations can enjoy a competitive advantage over their competitors.
So these were a few features of Power BI. Now, let's move forward and have a look at what empowers the Power BI to deliver actionable insights.
When it comes to Power BI, it is one tool that allows the process of data analysis to be quick, agile, and user-generated. It not only simplifies the task of data collaboration, analysis, and sharing but also makes takes the same to the next level.
Here is a list of the top three components that empower the performance of the BI solution at every step of the analysis.
1. Power Pivot 
This component imports and integrates different datasets from different sources to develop in-memory data models. Such integration makes it easy for any functional user to improve the overall value by combining various data sources.
The most classic examples of such integrations are when corporate sales/demographic/weather data is analyzed by using the tool Power BI.
This component also supports complex calculations, key performance, and indicators, which can further be used by data analysts for prototyping and doing analysis of different business situations. See this beginners Guide to Power BI  for more details.
2. Power Query
This component searches for data in various corporate data sources or online, and the picked dataset is then seamlessly imported into an Excel table, which serves to be a game-changing feature for many analysts. The native data connectivity feature offered by this component enables quicker and simpler access to the data.
Power query does the tasks like renaming a column, replacing the values, merging the data, and other critical data modifications. This component is a big deal since it allows data cleansing and shaping hassle-free.
3. Power View
When it comes to visualizing the data and making it even more interactive, Power View is the go-to component. It is supposed to cross-filter and highlight the data. Working with the data in the Power view component feels almost the same as working with Excel and PowerPoint tools.
Apart from the graphs, tabular data, and charts, Power view supports different maps that have zoom and pan capabilities.
Relevant Navigation